This week our lookbook is all about floral, navy and yellow. We created a playful outfit by pairing the gorgeous navy daisy dress with some fun colour popping fashion accessories to really hot this outfit up! This navy and yellow outfit is perfect for summer vacations or barque garden parties with friends in the English sun. If you want to see where you can purchase the items in this outfit idea post, simply click on the image above (each item is linked to where you can purchase it). Or you can find out more about the individual pieces below, as we talk you through this understated summer floral look.
We really think that the best thing about the outfit is the eye popping rich yellow that comes from the fabulous heels and bag. But first we'll talk about the dress.
---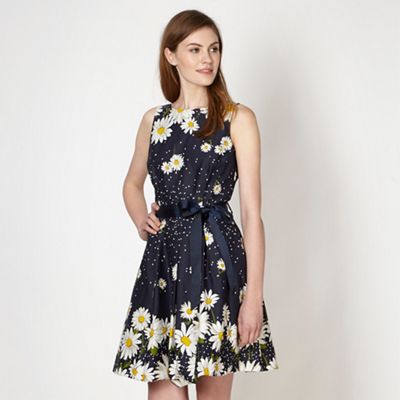 Navy daisy prom dress
This knee high dress from red-herring features a daisy print and white spotted design. It has a pleated flared out skirt, which helps to create an hourglass figure. This dress also has a ribbon tie waist which adds to the super feminine look.
£36 £45 from Debenhams
---
Sweet Talk Low Heels
The heels we chose for this outfit are from Schuh. They are made of a fabulous bright yellow suede, have a 10cm low heel and great ankle support – making them a perfect choice for the summer months.
£60 from Schuh
---
Fleur reversible yellow clutch bag
This absolutely delightful Amelie and Fleur yellow clutch is from Pauls Boutique. This bag is perfect for adding a pop of colour to any outfit. Another awesome feature of this clutch is that it's reversible, meaning that you basically have two bags in one. Get fed up of the yellow? No problem, turn it inside out to reveal the black design! We love it's versatility and wide color selection, check it out!
£25 from Pauls Boutique
---
Pandora Daisies white enamel silver ring
Next in this outfit is the super cute Pandora Daisies ring. We picked this ring to help make the outfit look more sophisticated, however still carry off the daisy theme. We think this piece does it beautifully. This is a fun ring that can be paired with any floral outfit.
£50 from House of Fraser
---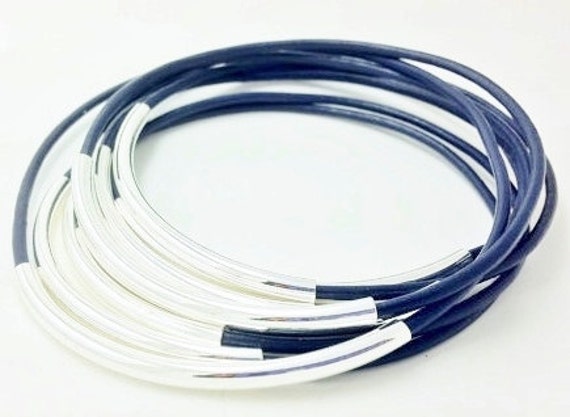 Navy Leather Bracelets, Silver Tube Accents
Tying this outfit off are these lovely handmade navy blue leather bracelets from Etsy. We think there are fabulous, great value and totally on trend. We totally dig these!
£13.36 from Etsy
---
So there you have it, this weeks lookbook from Black Dress Zone. Bookmark our website and come back next week to see our next outfit ideas for Spring / Summer 2014.